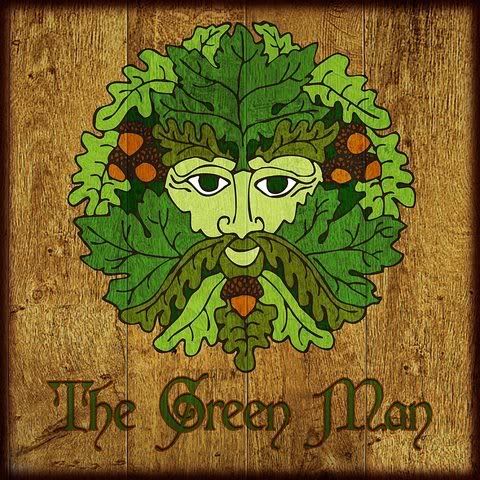 The Green Man is a local pagan store in the Los Angeles area.  I grew up in a small town where the shops at the local shopping area were owned by your neighbor. It made you feel welcomed and there was a familiarity with knowing the people who owned the store. It was extra feeling of dedication and respect not only for the store but the community that came to shop there.
This is how I feel when I walk into the Green Man. It's home. The owners  and staff are very knowledgeable and helpful. Come in with your concern and they'll dress a candle for you. Need something more unique? Request for a special blended oil for your situation. They are a full apothecary with high quality herbs and oils along with their line of blended oils. A huge selection of unique items like jewelry (which I tend to purchase often), tools, gems and statues.  They support the growing community by selling one of kind ritual items from Pagan Artisans (local and from around the world).
There is a diverse staff of experienced readers and healers that are available through out the week. They host a Psychic and Healers Faire a few times through out the year. What is awesome about this is that if you're a little hesitant about getting a reading, this faire offers you an opportunity to spend a few minutes with the readers. This is much better than reading a short bio about someone. This offers you quick interaction to see if you have a connection and comfort with a reader. But, if you can't go to a Faire, I am comfortable in recommending any of the readers listed on their site. I have never been disappointed.
This is a store that encourages growth. They have classes that range from all interests in the occult.  Current classes: Elemental 101 with Lady Oxannamoon, Rune Making Workshop Series 201 with Braggwynn. A few upcoming classes are: "Stress Relief" Herbal workshop with Julie James, Clairvoyance 101 with Adela,  and Introduction to Magical Herbalism with James and Michael. There's also a unique opportunity to learn more about the British Traditional Craft, taught by Griffin. The ongoing Sabbat Series: British Traditional Witchcraft Perspective on the Wheel of the Year & the upcoming Craft 101+.  The teachers all share an interest of encouraging your development on your path providing solid information. The classes are enlightening and taught by experienced teachers.
They also hold events, like the most recent Witch's High Tea Party; upcoming Movie Night, Rites hosted by different Traditions in the community, Divine Feminine and Masculine Moots, Sacred Sundays, and Working Seances. Having Rites hosted in a store by other Traditions is important. But, the owners take it a step further by supporting and participating in the Rites. It means so much to me that there is a huge support for other traditions. I can't express the serious importance of supporting many traditions in the Pagan community and the owners exemplify this.
I'm very lucky to have this store only a half an hour away from me. But even if I lived further it's worth the drive. I know there are people who do travel long distances just to be a part of this thriving community at the Green Man.  They truly offer a place were all paths may gather.  So, who am I in all this? No, I don't work there. I'm definitely not one of the fabulous owners. I'm just a loyal patron who is very proud of the owners, who I believe have made a significant contribution to the Pagan community.
"Here at The Green Man we offer a hearth where all people from all streams and paths of all the old ways may gather." – The Green Man Store